Events

The 9th IIASA-DPRI Conference on Integrated Disaster Risk Management- Scientific Challenges in Implementing Integrated Disaster Risk Management in Changing World

Date:

Organized by:
- Disaster Prevention Research Institute, Kyoto University
- International Institute of Applied Systems Analysis

Co-organized by:
- Japan Society for the Promotion of Science
- Disaster Reduction Hyperbase
- Global COE Program "Global Center for Education and Research on Human Security Engineering for Asian Megacities"

Number of attendants: 180

Report 062
Outline
This year's conference theme "Scientific Challenges in Implementing Integrated Disaster Risk Management in a Changing World" has been motivated by the need to identify and overcome barriers to the implementation of disaster risk management in a systematic way and to address the ever increasing challenges brought about by a rapidly changing world.
Current economic, environmental, and political changes require the disaster risk reduction community to find innovative, cost effective and equitable ways to reduce disaster losses and suffering while promoting sustainable development practices and making communities more resilient.
The conference topics include: Removing obstacles to the implementation of disaster risk management; Modeling integrated disaster risk management; Synergies between disaster risk management and climate change adaptation:
Rural versus urban hotspots; Novel insurance options for disaster risk management; Adaptive management / sustainable management options for disaster reduction; Insurance and industry in a changing climate; Business continuity and disaster loss reduction; Natechs: Experiences from Asia and beyond; Natural hazard threats to industry and critical infrastructure; Using the Disaster Reduction Hyperbase for disseminating technology and knowledge for disaster risk management.
Report
There are about 180 people attended to the conference from over 20 different countries. Also, IDRiM society has been ranched and it is begin to take new but important role in disaster risk management field.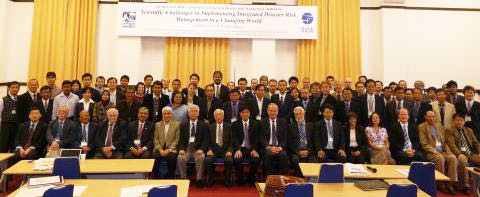 Group Photo of Participants