Overseas Training > 2012 > Andie Pramudita
Andie Pramudita
Learning from Indonesia's Experience in Disaster Management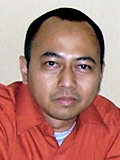 Division of Logistics Management Systems, Department of Urban Management, Graduate School of Engineering
Place of stay: Bandung Institute of Technology, Indonesia
Term: February 11, 2012 – February 25, 2012
The objectives of the internship were to collect data and to interview experts in disaster management in order to get a better understanding in disaster management in Indonesia. I visited some institutions in Jakarta, as well as to Bandung Institute of Technology in Bandung which was a host of internship, in order to collect data and to make an interview for the purpose of talking about the topic related to the real condition of disaster management in Indonesia, focusing in debris and waste collection process. Beside that, I attended a collaboration seminar between University of Indonesia and Tokyo University Japan which was arranged by University of Indonesia in the contex of "Learned from Japan after the Great East Japan Disaster"with the topic: Urban Society's Vulnerability and Preparedness in Disaster Mitigation in Indonesia and Japan. Then, I was able to attend an international video conference in Bandung Institute of Technology which was arranged by Japan International Cooperation Agency and National Graduate Institute for Policy Studies with the topic: Reconstruction of Safer Houses after Earthquake Disasters.