Overseas Training > 2012 > Prapamon Seeprasert
Prapamon Seeprasert
Survey in area affected by illegal dumping , Chachengsao, Thailand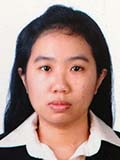 Environmental Risk Analysis Laboratory, Division of Environmental system engineering, Department of Environmental Engineering, Graduate School of Engineering
Place of stay: Kasetsart University, Thailand
Term: December 13, 2012 – December 27, 2012
The aims of this internship were to investigate and evaluate the status of heavy metal contamination in areas surrounding an illegal chemical dumping site and to collect samples of soil and plants contaminated with heavy metals. The internship was conducted from 13 to 27 December 2012. It began with discussions about the detailed objectives of the internship. The following days were devoted to the collection of secondary data such as map and orthographic. The secondary data was used to decide the location of sampling points. The internship continued with GIS training such as the Arcview program. Sampling activity was conducted in the middle period of the internship in three areas that could be accessed with the survey permit. The areas were located in Panomsarakham District: Nongnae sub-district and its surrounding cassava farming area; Kohkanoon sub-district, which is surrounded by cassava and mango farms; and Khowhinson sub-district, which has no agricultural area. Finally, samples were prepared and sent to Japan.