Overseas Training > 2012 > Sattrawut Ponboon
Sattrawut Ponboon
Location Routing Approach for the Post-Disaster Warehouse Management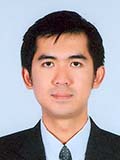 Division of Logistics Management Systems, Department of Urban Management, Graduate School of Engineering
Place of stay: Linfox Logistics (Thailand) Ltd., Thailand
Term: December 17 - December 28, 2012
The logistics management system of food industry is considered challenging by different types of goods and products. Minor Food Group and Linfox Logistics (Thailand) Ltd., are working together serving food products to the restaurants across the country. It was my great opportunity to work with them for my internship program at Ayutthaya for two weeks. At distribution center, four main functional units including procurement, customer service, warehouse, and transportation are daily operated. Two sets of warehouse and transportation teams operate 7-day a week to meet customer's demands. The comprehensive ideas to minimize expense by minimizing unnecessary process are also explained. In addition, in 2011, the warehouse suffered by severe flooding at central of Thailand. The issue was raised to the administrative level to relocate the warehouse to other unaffected areas. Recently, several decision making processes have been made including vehicle routing analysis on candidate locations, or called Location Routing Problem (LRP). It is expected the results from the location routing analysis would help the company determine the best warehouse location in the near future.