Overseas Training > 2012 > Suntae Lee
Suntae Lee
Creation of wastewater reuse system by membrane technology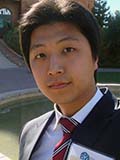 Research Center for Environmental Quality Management, Department of Urban and Environmental Engineering, Graduate School of Engineering
Place of stay: International conference at Buenos Aires (Argentina), The University of Arizona (USA)
Term: December 1, 2012 – December 14, 2012
The main objective of my internship was to understand the Water reuse in USA and collect the latest information on the research about membrane technology. It mainly included an international conference (IWA 3rd Regional Conference in Membrane Technology) held in Buenos Aires of Argentina and an academic visit to Prof. Gerba of the University of Arizona in USA.
In the international conference, I presented my own research results and received quite meaningful advices and suggestions. I got an opportunity to hear good researches on membrane technology and contact with many international researchers.
After the conference, I visited to Prof. Gerba of the University of Arizona in USA. In seminar with Gerba's laboratory, I performed the self-introduction and presentation about my study and obtained many good ideas for my future research from a discussion with them. After that, Prof Gerba let me visit the microbiology laboratory. I felt there is very wonderful experimental environment for microbial analysis. Through this academic visiting, I think I could gain many valuable experiences and expand a relationship with international researchers or students through this internship.